Positive Thoughts for Fabrice Muamba
The outpouring of support from throughout the soccer world has been astounding and powerful. Players and fans alike have taken to Twitter to send prayers and positive thoughts to both Fabrice and his family. Wayne Rooney, Cesc Fabregas, and Landon Donovan are among those that have voiced their support. Juventus star Andrea Pirlo said that the club dedicated each of its five goals Saturday to Muamba.
For me, this hits especially close to home. A few years back a former teammate of mine collapsed on the field with a heart attack. Andrew's brain was without oxygen for around 45 minutes. As result, the brain damage was catastrophic. He ended up passing away a few weeks later at the age of 20. This remains the most difficult funeral I have ever attended. Fabrice's heart attack simply brings it all back.
In full disclosure, I am a Bolton supporter, but again club allegiance does not matter in this situation. What matters is that Fabrice recovers for his young son and his fiancée. What matters is that his family and friends have the emotional support necessary to get through this terrible ordeal. What matters is that each of you reading this send either a prayer, positive thoughts or good vibes to Fabrice Muamba, his family, and his Bolton family. I add this part because USMNT player Stuart Holden is absolutely devastated right now and many players consider Fabrice to be their best friend. So here is Riptide sending positive thoughts to Bolton's Fabrice Muamba. May you fight through these critical hours with the tenacity you have showed in 140 matches for Bolton! Your friends in the States are behind you.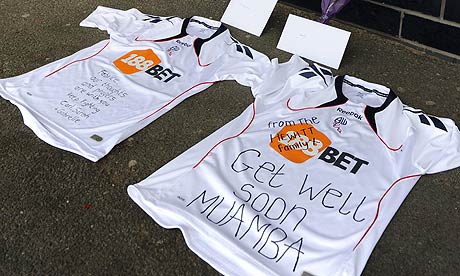 -Matthew Magliozzi
No, Riptide didn't suddenly become a Bolton Wanderers Supporters Club. What happened yesterday at White Heart Lane is something that transcends all club allegiances, crosses gender boundaries, and anti-soccer rhetoric. In case you missed it, Bolton's Fabrice Muamba collapsed in the 41st minute of their F.A. Cup tie with Tottenham Hotspur. He went to the ground, face down and lay there motionless. Medics and trainers from both sides attempted to revive him on the field prior to rushing him to a cardiac hospital in London. Players from both sides were extremely distraught and you could tell that they did not want to play another second of soccer on the day. The silence in the stadium was frightening, but the chanting that followed simply brought tears to my eyes. Hearing the name "Fabrice Muamba" chanted by 30,000 Tottenham fans made it clear that human life does in fact trump all divisions in sport. Referee Howard Webb made the decision to abandon the match after consulting with both Bolton's Owen Coyle and Tottenham's Harry Redknapp. Coyle and Bolton captain Kevin Davies accompanied Muamba to the hospital where he remains critically ill according to the club.